Berlin By Air
Published 2020-10-05
I have had business dealings requiring me to visit Berlin regularly for the last 5 years, and in 2018 I finally made the trip outside of the city to Strausberg Airport to rent a Cessna 172SP Skyhawk.
I had heard, while flying with a flight instructor around the complex airspace in my home town in Northwest Florida, that the procedures were a lot like flying VFR in most of Europe. That started me down a line of thinking about my upcoming trips to Berlin.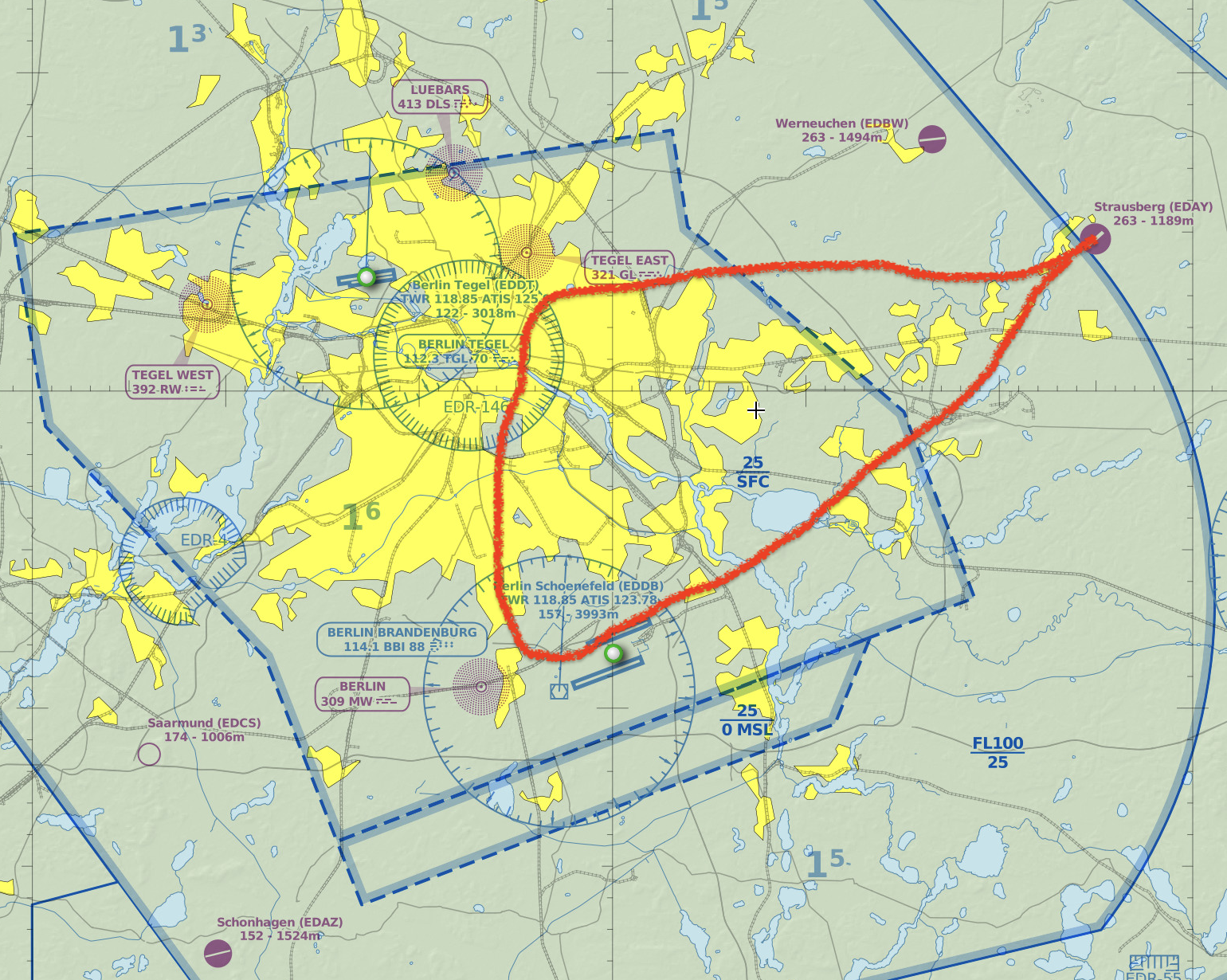 Flying in Germany was long on my to-do list, I was simply intimidated: What were the rules? How would I find a school and instructor? How would I even get there from central Berlin?
The research for most of the effort wasn't difficult, though it helps a lot that I can read German at an elementary level. The biggest problem was simply identifying which outlying airfield was most promising, and writing emails until I got a response.
There are, frankly, not a lot of options for flight schools in the vicinity of Berlin. Strausberg Airport had the best-presented "flight schools" page, so it was instantly a favorite. Aerotours at Strausberg also was the first to write back to me — by a full week! So after a couple of tries of explaining what I wanted — just an adventure flight, I don't have to be Pilot in Command, thanks! — I got on their schedule with my choice of aircraft — a G-1000 equipped Cessna 172SP, exactly the same year and equippage as I had recently flown in Florida.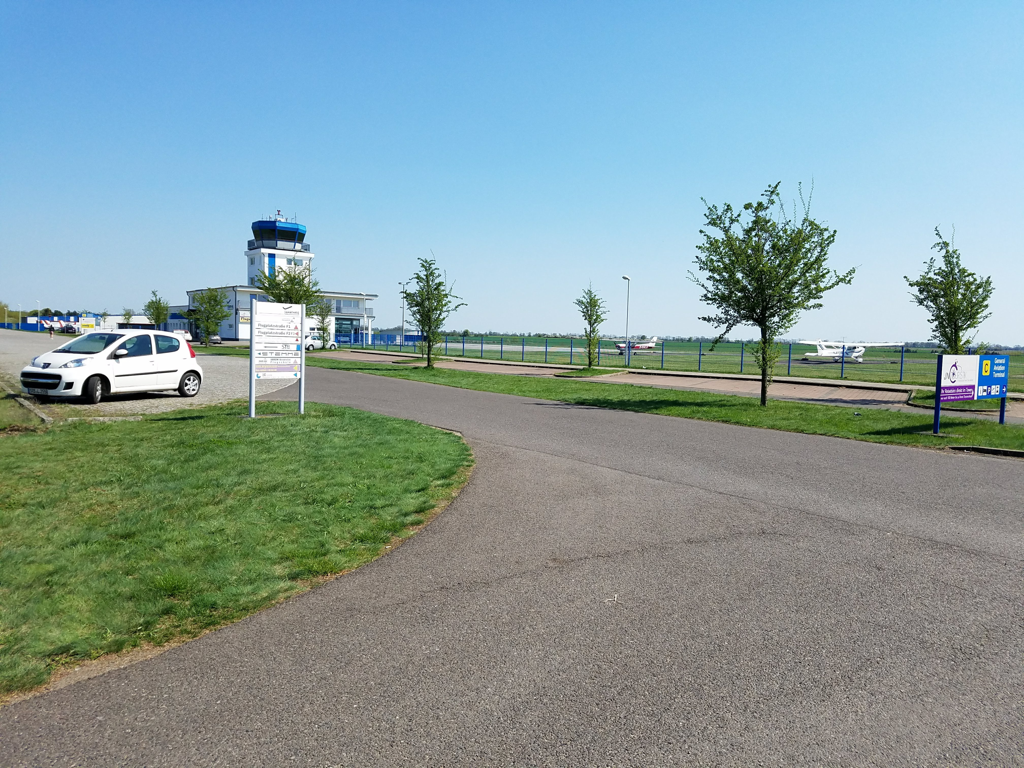 After two weeks of working in Berlin, the scheduled day arrived, bringing beautiful weather. I was lucky enough to find a colleague who was in for an adventure one spring afternoon, and she drove us northeast out of Berlin to the ostrich-bedecked Strausberg airport. (Strauß being the German word for ostrich, which is not where the city gained its name, but it's a homonym and it's fun)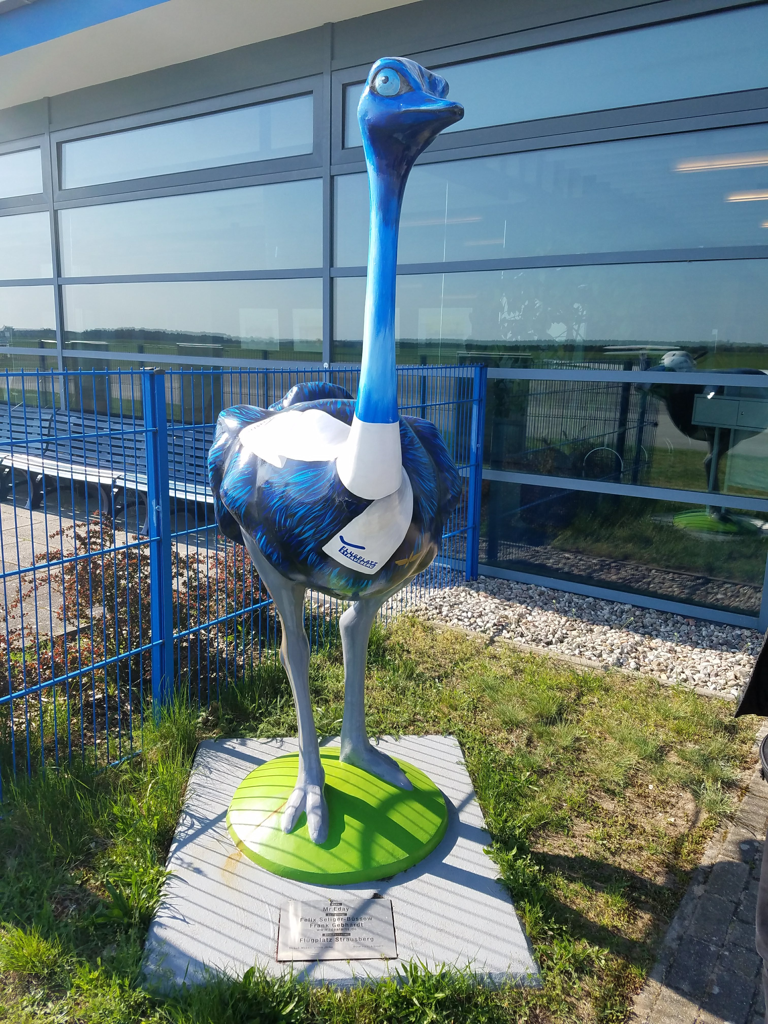 Strauserg airport is about the size of most of the airports that dot Arizona's landscape, and laid out very similarly. On the way, my colleague informed me that a lot of the activity at this airport involved sailplanes, including motor-gliders. That was perhaps the most stark difference: There certainly were quite a few such aircraft positioned around the field, an uncommon sight here, as most of our gliders are at specific gliderports.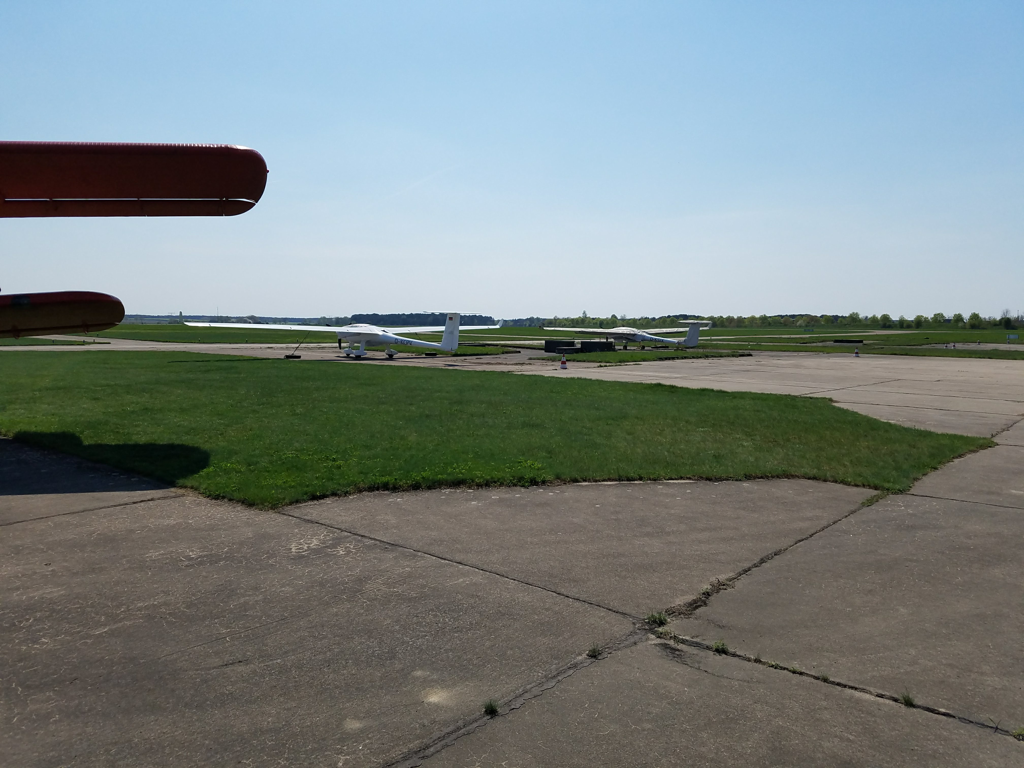 Checking in was straightforward, probably in no small part because having an American come through for an adventure flight isn't apparently a common occurrence. My instructor for the flight trained at Embry-Riddle in Florida, and was excited to show me how cool it is to fly in Germany, and how much of Berlin we could see by air.
This flight school was also not a through-the-fence building, so we took the short walk across the airport's parking and through a pedestrian gate. On the ramp waited our Skyhawk.
I began a normal preflight, and gave the instructor opportunity to make remarks about my technique. Overall he said he rarely flew with people who were current and knowledgeable about the specific type – but it really is just a simpler version of the Skylanes I fly regularly in my club. The aircraft was in exquisite shape, particularly compared to the same-year 172SP I rented in Florida. But one thing was missing - there was nothing in the aircraft I could find to sump the fuel.
We drain a little fuel from each fuel tank during pre-flight operations to ensure that we're carrying the right fuel, and that there's no water mixed into it. Aircraft fuels are lighter than water, so water would gather at the bottom of the tank, and aviation gas is colored light blue to distinguish it from petrol and jet fuel.
But, I find out, I can't do that. At least not with this flight school — the fuel, being leaded, had to be handled by trained technicians. They already tested the fuel tanks, and I'd be fine.
Well, that was a new experience. One thing I've learned as a pilot is how to take ownership of complex risks and mitigate them with knowledge, training, and technique. I've always sumped the fuel anytime I didn't know for sure the status of the fuel tanks. But not this day, this day I had to trust the staff. Okay.
Preflight — and the preflight paperwork — completed, the flight instructor called up a clearance delivery frequency for departure clearance in German. I followed about half of the exchange, and then we were clear to taxi and depart, with a brief exchange with the Strausberg airport radio. I handled the runup to the instructor's satisfaction, and we went aloft.
We flew over the old town of Strausberg and southwest toward Berlin, in touch with Berlin Approach. About this time, the instructor realized he was going to have to translate instructions for me, apologizing: apparently we were now logged as being a German-speaking flight due to the initial call-up. If the initial clearance delivery had been in English, all our controllers would be using English for us. But no worries for me, I let him do the talking and I did the flying.
Communicating with Berlin Approach worked a lot like the Eglin Flight Rules Area, in that it was VFR with constant-contact within the vicinity of the city, but as far as I could tell, we could fly anywhere but over the federal buildings in the middle of the city. So naturally, we first flew over the Mozilla office, crossing the Spree river just west of the office to get a good view.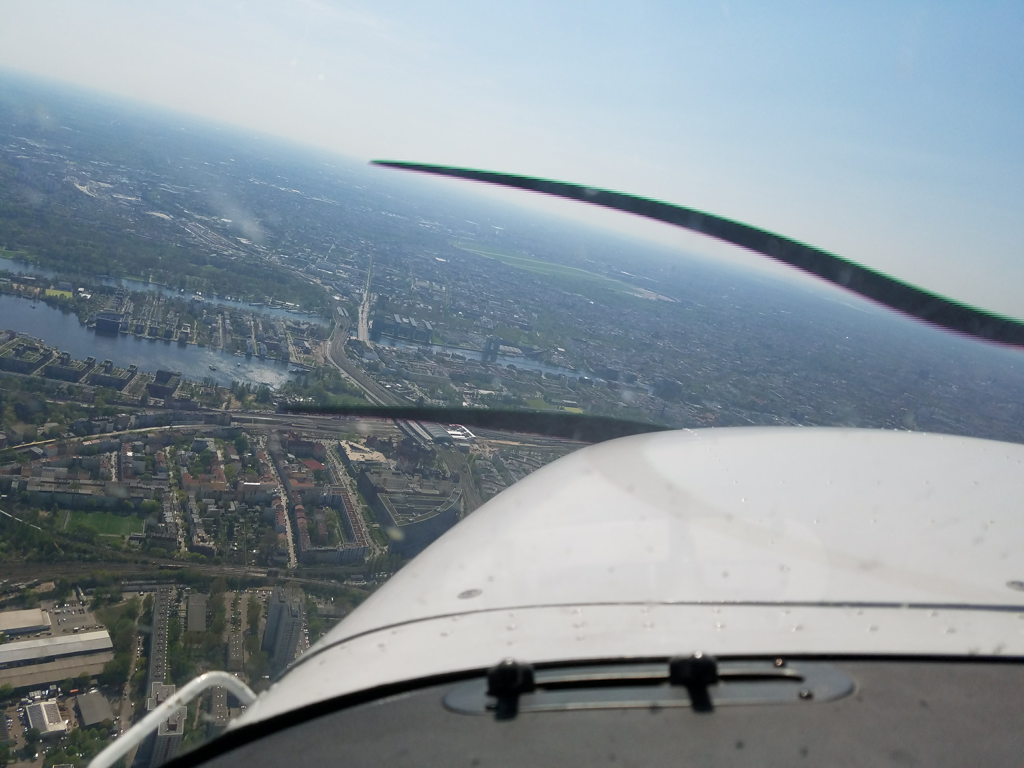 That turn by the office set us up for a fly-by of Templehof field, one of the primary destinations of the Berlin Airlift. I grew up with pilots around Eglin Air Force Base who had flown in the Berlin Airlift, and interviewed some of them while in high school.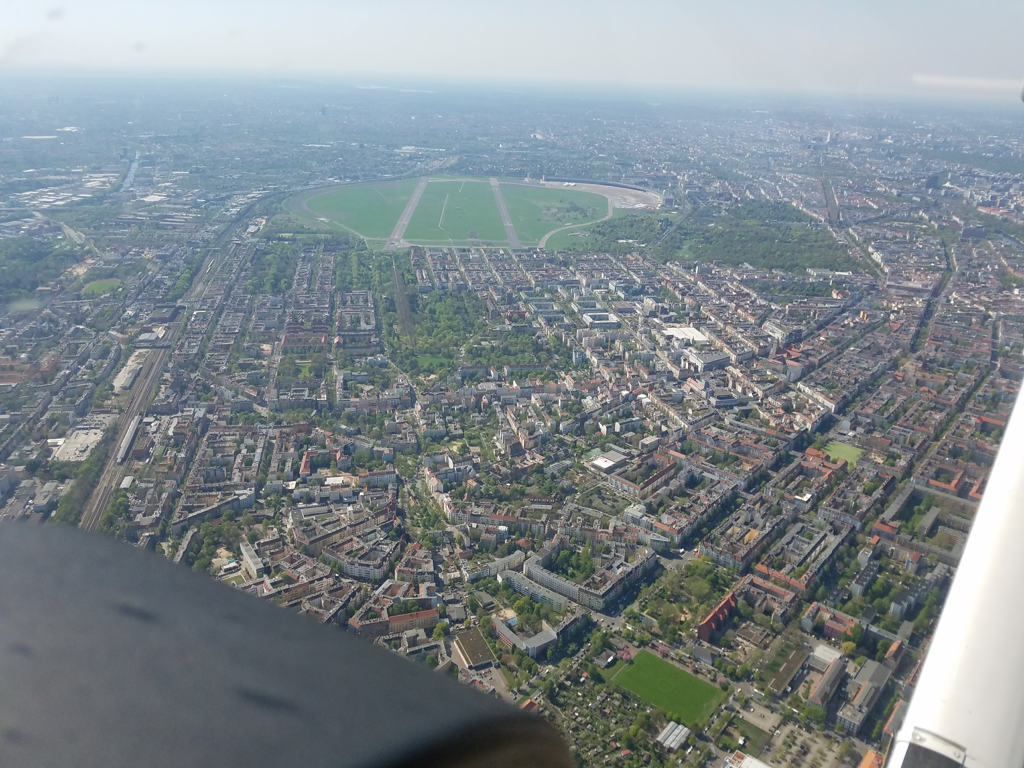 Templehof is especially interesting to see today, as it's now a large city park – but unlike so many airports converted that way, the grounds were kept essentially unchanged. It still has its two parallel runways, just now with more skateboarders.
Our next destination was Berlin-Schönefeld, to request a practice instrument "low approach." Since every flying thing gets billed to you in an itemized fashion in Germany, it's much cheaper to avoid touching the wheels to the pavement, hence the low approach.
We prepared for the approach, briefing the ILS chart and gathering the Schönefeld weather information, and then my instructor requested the practice approach. There was some back-and-forth, none of which I caught, and he informed me that, sorry, due to the air show that they weren't open for approaches today.
I made a mental note about that whole air show business and we turned back toward Strausberg.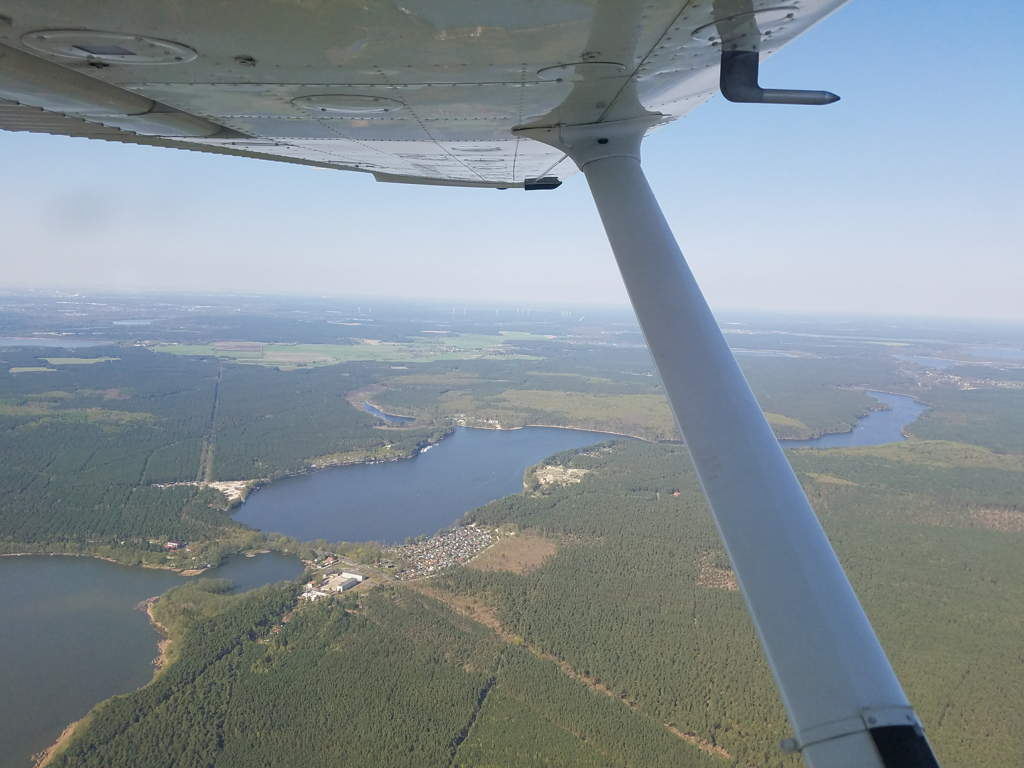 There's a lot of lakes, small towns, and windmills east of Berlin, so we settled into a scenic cruise back to the field. Chatting with the instructor, I learned some more differences with flying in the United States. One was some clarification that if it isn't printed in the Pilot's Operating Handbook for the aircraft, we shouldn't do it. For example, the 172SP handbook only lists short and soft-field takeoff performance, so I should have selected short-field takeoff flaps, though they were clearly unnecessary. Rules are rules, after all.
My favorite was finding that it's not permitted to land at an airport unless the airport is attended. (Unless you're experiencing an emergency, of course). I asked, does that mean all airports are towered? No, apparently. Some airports simply have a radio in the restaurant, and someone will answer when called to confirm the airport is open and observe field conditions. They don't provide clearances, so it's still up to the pilot to provide separation, but they do get to confirm that the airport exists in both space and time, and has not fallen into a parallel dimension.
What happens if they don't answer? Airport is closed, apparently.
This made me think of all the times it's taken me more than 5 minutes to contact remote western Flight Service stations to read out pireps. I imagine pilots waiting on the radio operator's coffee pot to finish brewing is likely the same in either country.
We talked about my intentions to get my commercial certificate in the future, and we used that as an excuse to practice a couple of power-off 180 precision landings there; at that point I hadn't flown that commercial maneuver before, so his was my first instruction on it. My landings were fine, if imprecise – but then again, a Cessna 172 doesn't drop like a rock like a Cessna 182 with its prop full forward. I am happy to say I've much improved my power-off 180 technique in the years since.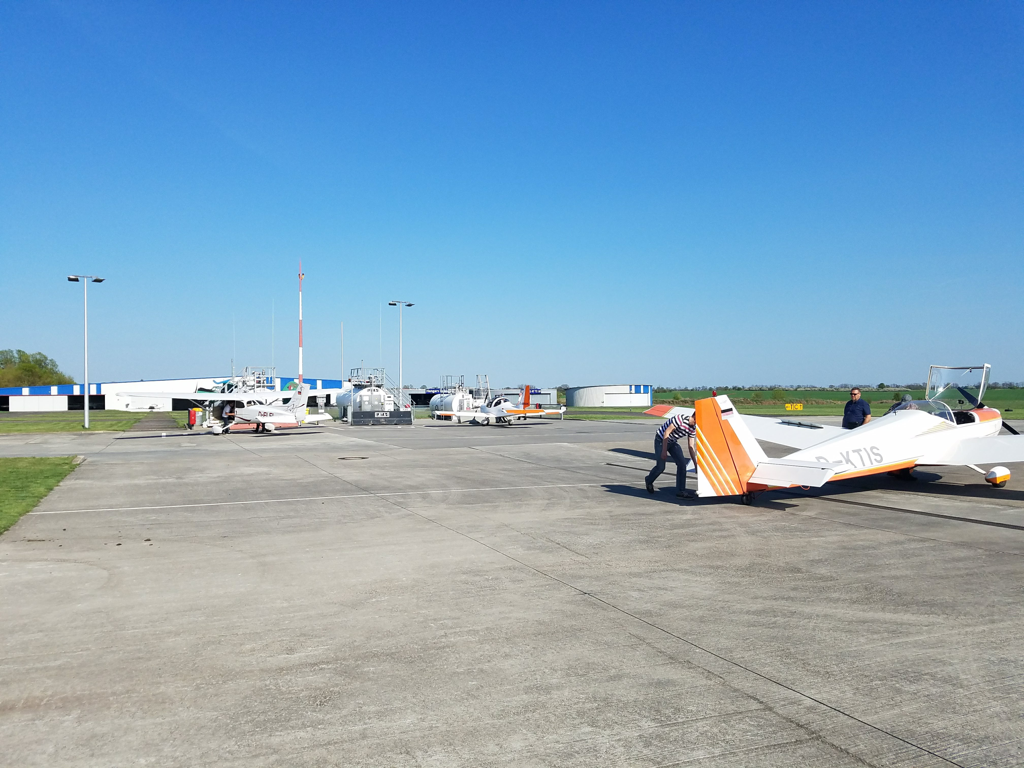 Shutting down, the aircraft was almost immediately taken over by staff members who wheeled it away for careful refueling and cleanup for its next flight. Such service!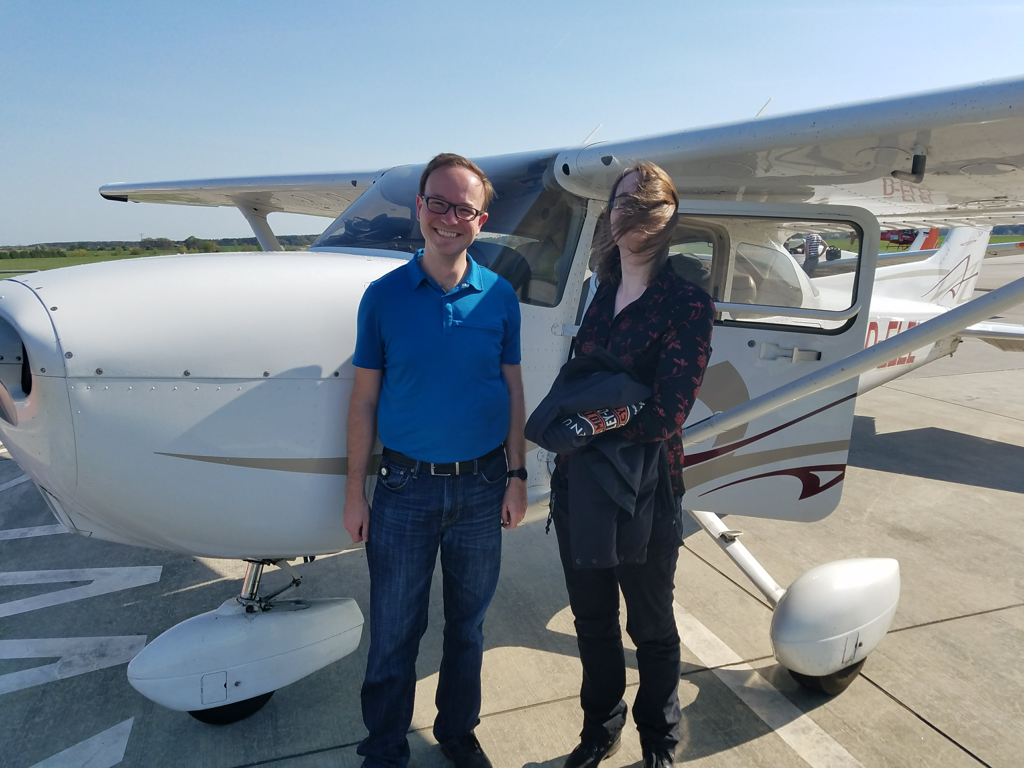 In the time since this flight, my colleague finished her single-engine private pilot's certificate there in Germany.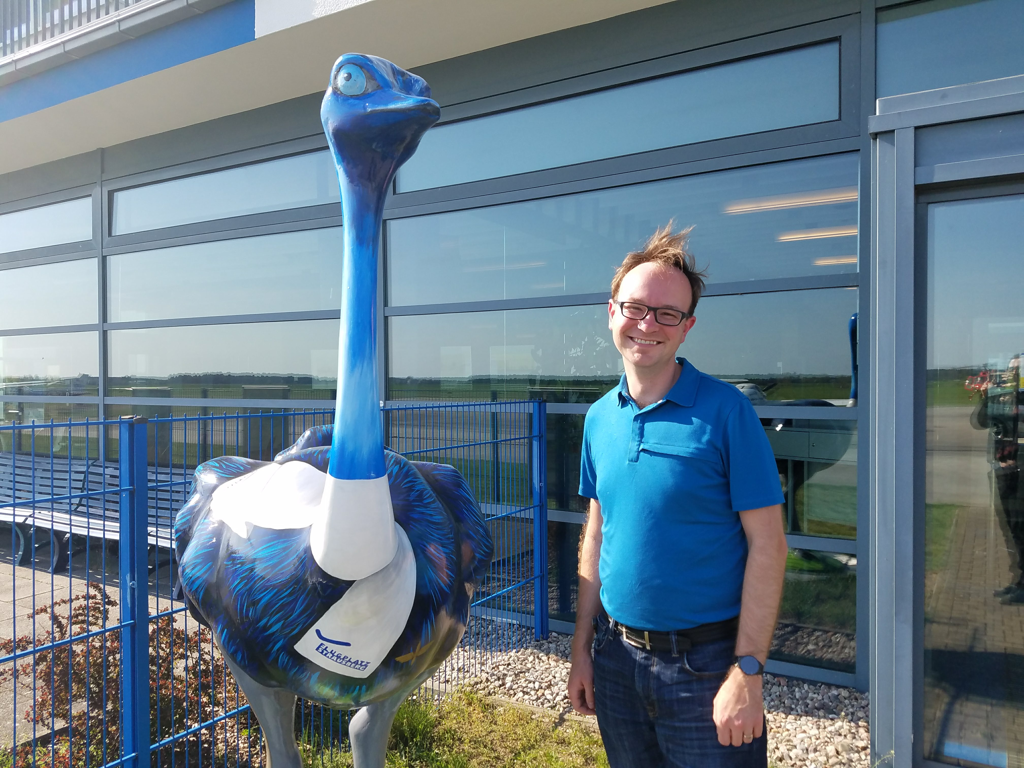 I got a fantastic story to tell, and another opportunity to learn more about both flying and about Germany.
When it was all over, I had to remind the flight school I needed to pay them. It wasn't cheap, but it sure was valuable. Also, I found out that the Berlin Air Show was the next weekend, which I absolutely attended: That's another story.