Long Instrument Cross-Country Training Flight
I'm training to be able to fly in clouds and other poor visibility situations. Part of the requirements for this "Instrument Rating" is to fly cross-country, on instrument rules, and do instrument landings at three airports, a task I undertook last Friday. I chose to visit my colleagues in Provo, Utah a BBQ lunch we'd been wanting to recreate for a while. The intended second stop was Cedar City, UT, home to the Utah Shakespeare Festival, but thunderstorms across the Utah/Arizona border prompted a diversion to Las Vegas, followed by a second in-flight diversion for winds to Bullhead City / Laughlin, NV.
It was a lovely day trip, covering over 1100 miles.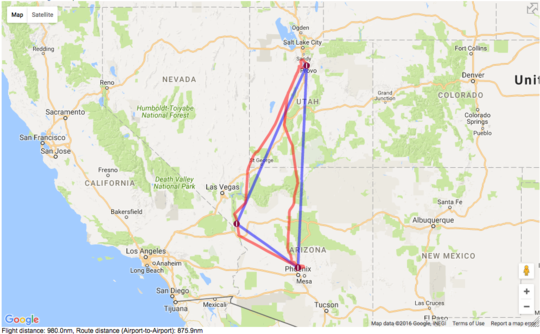 I took off with the dawn from Deer Valley Airport, AZ, the north location for my flying club: Phoenix Flyers. The first waypoint on the way north was Prescott, AZ. The "airway" I followed (V257) traverses a path right next to the Prescott Airport, and I snapped this photo of the airport amid its pine trees and the morning fog in the left-distance. A reminder to all of those who think all of Arizona looks like Phoenix!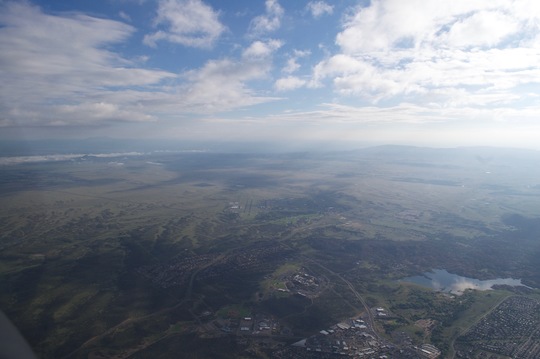 Here's a better photograph of the fog to the northwest of Prescott that morning.

The next waypoint after Prescott, AZ on the northbound trip to the Salt Lake City area is the Grand Canyon.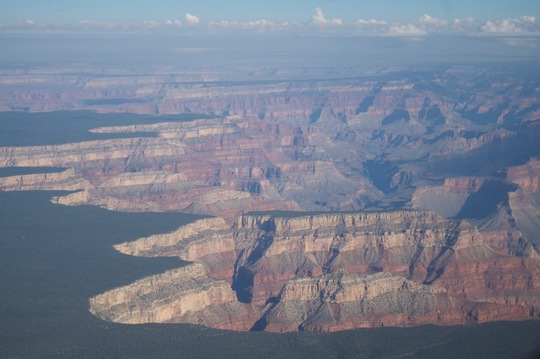 The published charts for instrument flight across the Grand Canyon requires a minimum altitude of 14,500 feet, which is high enough that the flight crew must legally have a source of supplemental oxygen. In advance of this trip I purchased an aviation oxygen system: An oxygen tank, a suitable regulator, and breathing cannula. I made sure it was full, strapped it into the plane in an accessible location, and we took off prepared to climb to such heights. It turns out, however, that Air Traffic Control routinely permits crossing the Canyon at lower altitudes while in radar contact with the planes - in other words, practically every time. Ultimately, it was never legally required for us to use our supplemental oxygen. Still, using a fingertip oximeter, it was clear the oxygen would be helpful, and we had it, so my instructor and I used it anyway.
Here's a photo of me, prepared for the higher flight altitudes. I'm also wearing funny glasses called Foggles; they cut down my view of things to be only the instruments, so as to simulate the experience of flying in clouds - as best as one can, anyway.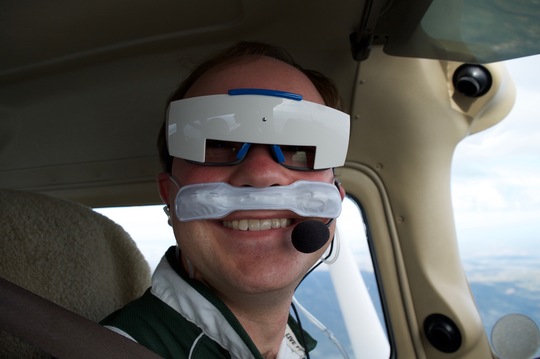 This photo is looking west from the start of the "Dragon Corridor" through the canyon, taken from an altitude of 12,000 feet.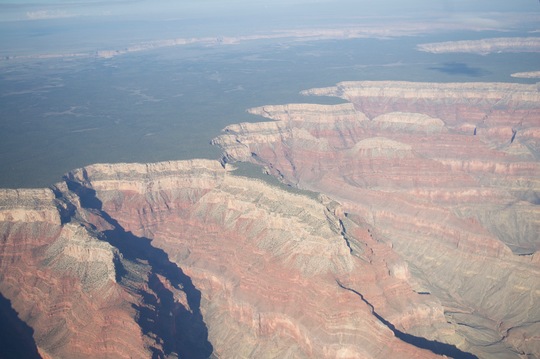 On the north side of the Canyon, the sun was scattering nicely through some low clouds shrouding that side of the canyon. I managed to capture this small rainbow against one of the ridges along the Marble Canyon segment of the Canyon.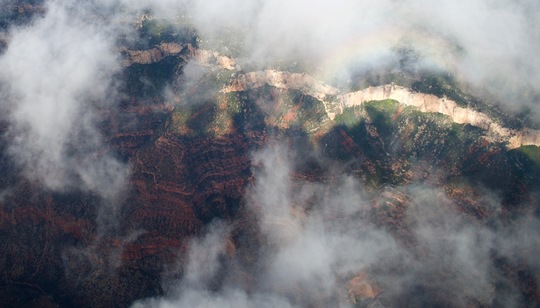 Those very low clouds in this area were in our way, so we kept flying through them! I took this set of photos to try and capture the disappearance of the world as we entered a cloud.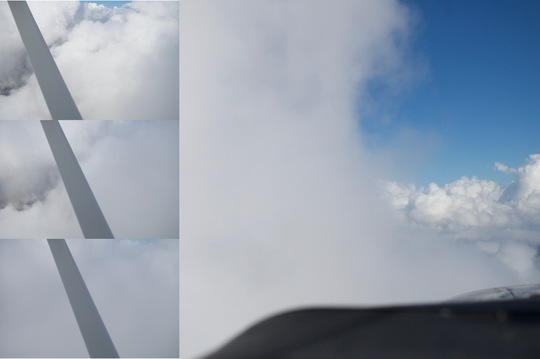 Really, I flew through a lot of clouds in northern Arizona and southern Utah on the way to Provo; these clouds became the storms we avoided later in the day.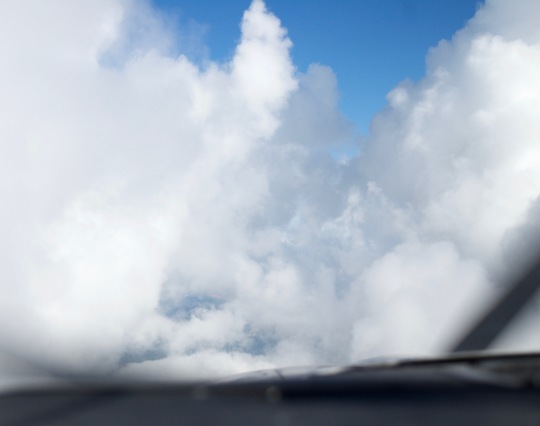 The path through Utah flew on the west side of the famous Bryce Canyon. I took these photos as we cruised by about 4,000 feet above.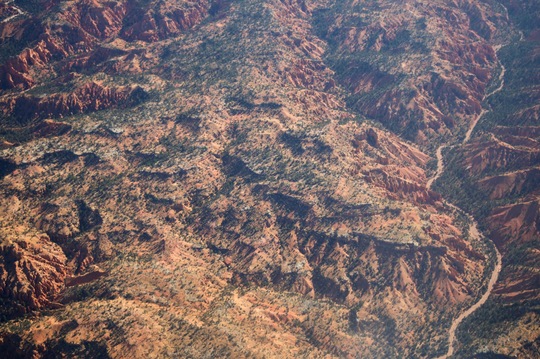 After Bryce Canyon, the last waypoint is a radio beacon on the southwest side of Utah Lake. The instrument approach into Provo Airport starts here, goes north and arcs around the lake to align with the south-facing runway.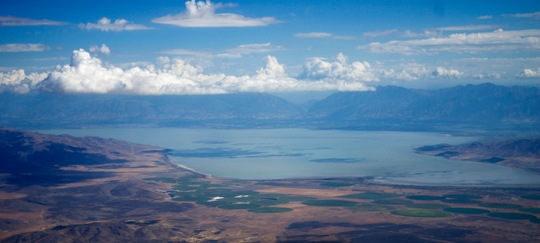 This is the instrument approach to Provo Airport. In the center map, you follow the lines from the bottom left (Fairfield), along the curve to the northeast, and then follow the straight line southeast to the airport.
If you follow all the procedures in this chart, you end up aligned with the runway, 200 feet above it and half-mile away from it, without having to see outside at all. The procedure gets you that close. At that distance, if you can't see the runway and land normally, the weather's too bad and you should try somewhere else.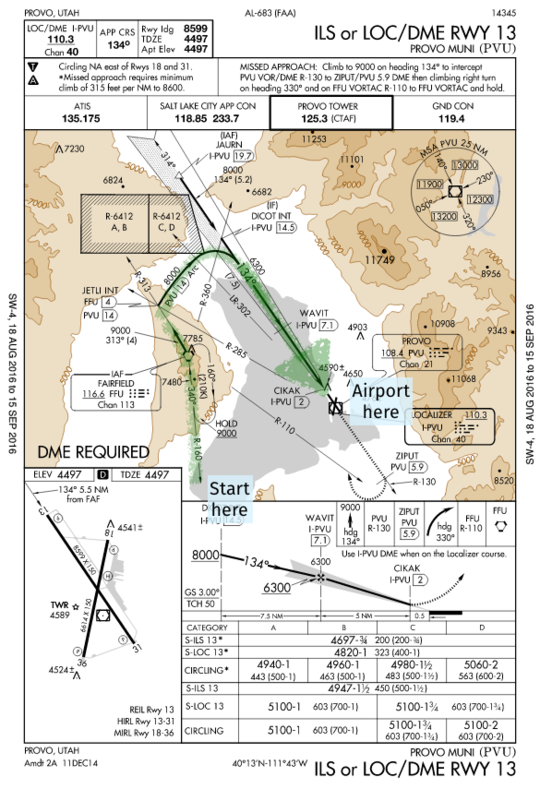 Here's the brief conversation with Provo Tower as I was handed over to them from Salt Lake City Approach:
In Provo, we were marshaled to park right next to this Airbus A319 from Allegiant, which just about started loading passengers. I didn't take a proper panoramic picture, so I munged this together; the positioning is right for the aircraft.
Foreground is my instrument instructor.

Provo, Utah's airport, looking west to Utah Lake.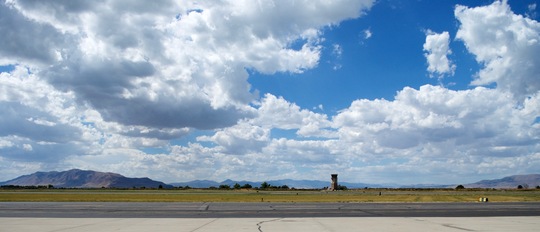 I wasn't the only aviator at Provo Airport yesterday. This hawk was showing me how it's really done.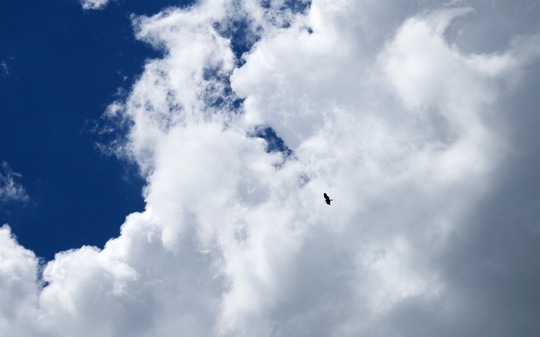 After Provo, the intention was to land at Cedar City, Utah, however that area was in an area of forecast thunderstorms. After some consultation with weather sources on the ground, we chose to plan a different path: North Las Vegas Airport, instead.
In the air, I work toward having maximum situational awareness: Enroute charts and approach plates on my tablet, and a glass cockpit in the aircraft.
If you look at the top-half of the tablet, you can see green and orange blotches down-screen from the blue airplane symbol. Those thunderstorms kept us out and away from Cedar City. We made more diversions west-bound to stay well clear. The bottom of the tablet depicts the instrument landing approach into North Las Vegas Airport. Just a minute or two later, I chose to divert. This photo shows charts into North Las Vegas, shortly before we diverted to Laughlin / Bullhead City Airport further south.
While we could have landed in Las Vegas, winds were favoring a runway without an instrument approach. I had to make only instrument approaches for the purposes of this flight. Hence the diversion.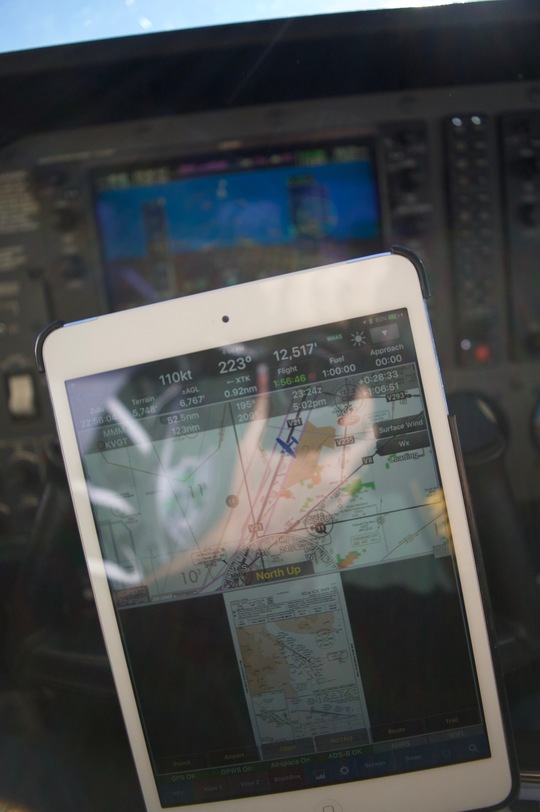 Meadview, AZ. I took this picture, with Lake Mead in the foreground, because I wanted to figure out what this town was. It's called Meadview, but that ridge makes sure they can't actually view Lake Mead... Seems like something out of Fallout: New Vegas.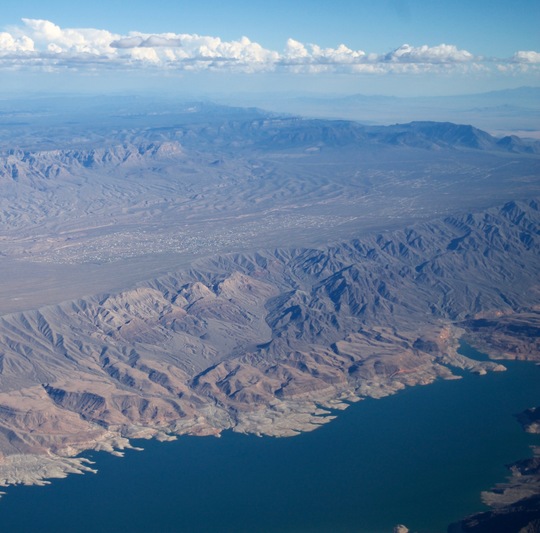 After a easy landing in Bullhead City, AZ, I took this photo looking across the river to Laughlin, NV. We stopped here just long enough to file a flight plan back to Deer Valley, AZ. We got our IFR clearance at about 5:50pm and taxied to the end of the runway. While we were finishing our setup, the tower controller radioed that the tower was closing in 5 minutes (at 6pm). We hurried, got clearance to take-off, and the tower immediately closed while we sped down the runway.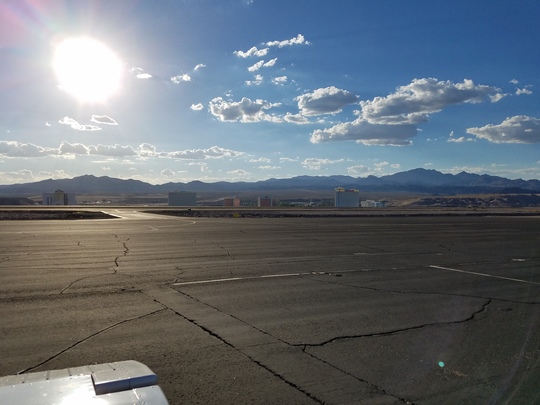 It was brutally hot in Laughlin/Bullhead City, so I was happy to jump back into the air.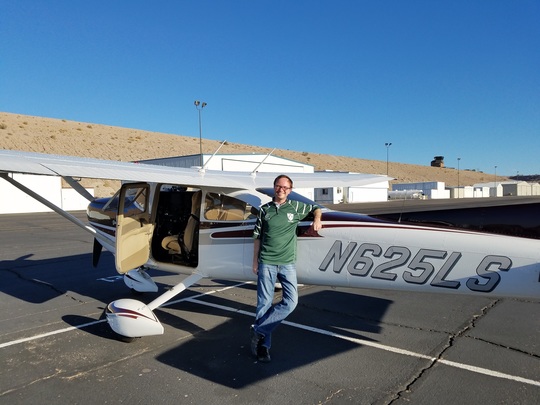 Interesting light playing in the ridges near Wikieup, AZ.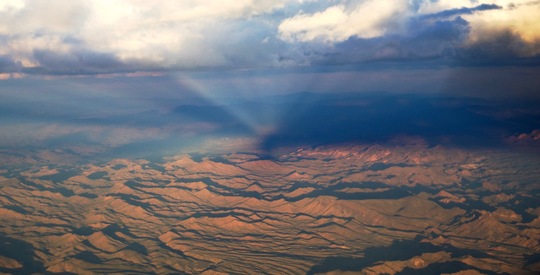 More interesting evening light near Bagdad, AZ.

Ridge colorations at dusk, about a hundred miles from Phoenix.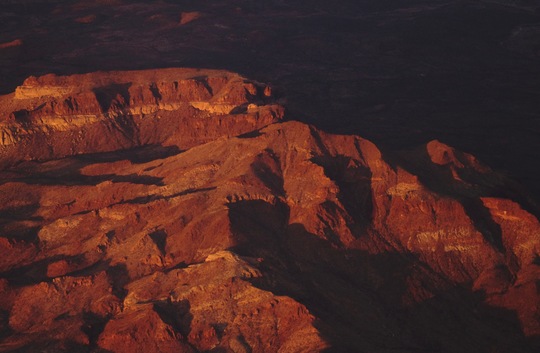 The trip was very successful, and very instructive. I believe it was great to have encountered such a weather situation while I had my instructor with me to help me reason through it. I'm pretty cautious, and was ready to spend the night in Provo, but this was fascinating!